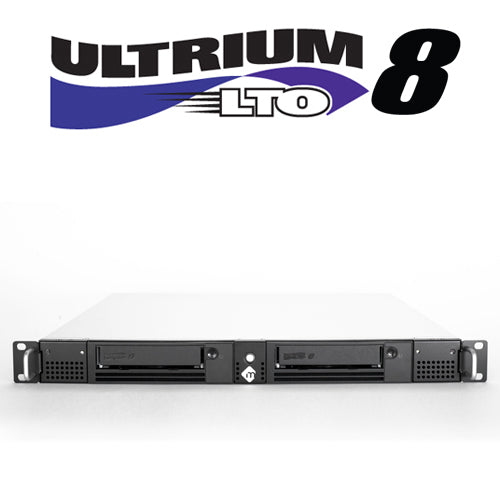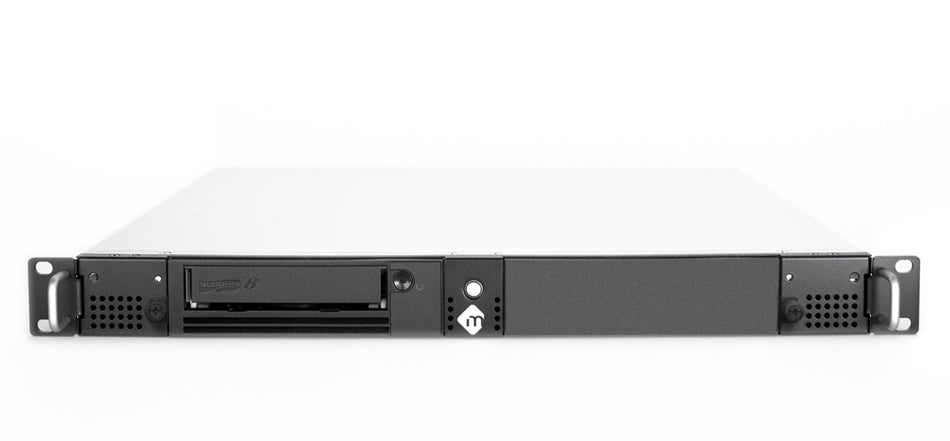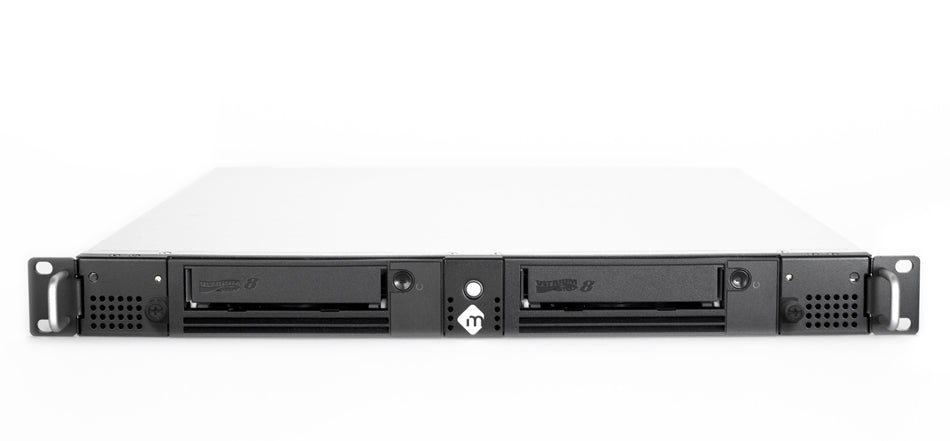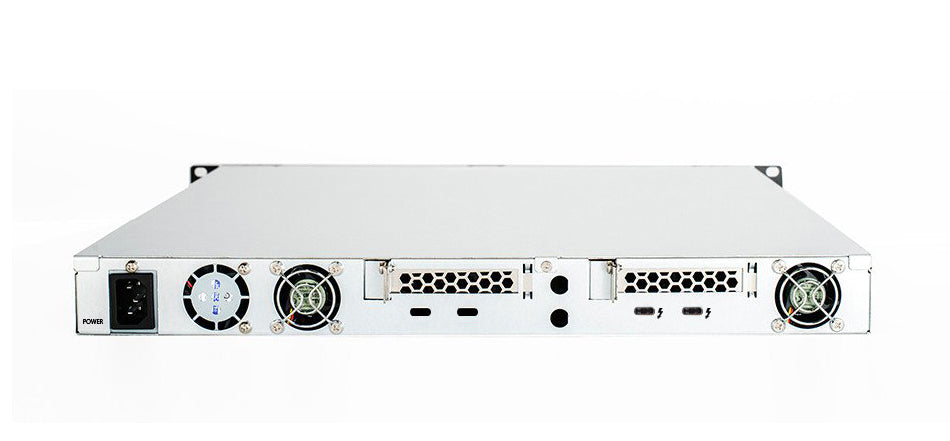 mRack - 1U Rack-Mountable Thunderbolt LTO-8

Rack Mountable Thunderbolt LTO-8 Tape Drive
1U Rack Mountable Thunderbolt LTO-8 Tape

Drive

 featuring single or dual drives

Ideal for desktop use or for mounting in standard 19" racks or DIT carts

Up to

12 TB native storage capacity per tape cartridge 
LTO tape has a

30+ year shelf-life

- Significantly longer than hard drives
Up to

300MB/second

data transfer rate

Reads and writes to both LTO-8 & LTO-7 tapes (does not read LTO-6 tapes)

Compatible with industry leading backup and archiving software

Dual

Thunderbolt 3

 ports enables daisy-chaining of Thunderbolt peripherals

Dual drive version enables writing to two LTO-8 drives simultaneously 

macOS and Windows compatible

Includes Hedge Canister LTFS app for macOS - a $299 value!

Ships complete with Fujifilm Universal Cleaning Cartridge and Thunderbolt 3 

cable
LTO made easy. Just connect to a computer with a Thunderbolt port.
The mRack Rack Mountable Thunderbolt LTO-8 Tape Drive revolutionizes LTO, empowering users to easily connect LTO-8 technology to portable, desktop and all-in-one computers that feature Thunderbolt connectivity.  Dead simple.  Another mLogic first.    
LTO tape offers a shelf-life of 30+ years and a reliability level that exceeds what is achievable with spinning disk and solid state drive technology.  mRack is the ultimate archiving solution to safeguard important digital media for the long term.  And LTO tape is not only more reliable than disk, but much more cost effective. 
Hello LTFS. Drag. Drop.
mRack ships with Hedge Canister - a $299 value!  Canister is a simple drag & drop Linear Tape File System (LTFS) archiving and retrieve app for macOS.

Canister Features
Makes industry standard LTFS tapes

True drag & drop archiving/retrieve for macOS (Big Sur compatible)

Supports archiving to a single LTO or to two LTOs simultaneously

xxHash64 verification ensures an exact replica of your source is copied to LTO

Catalogs are created for every tape - retrieving files is simple!

Catalogs mount as a network drive and are fully searchable by Finder

Generates Transfer logs, Media Hash List and Manifests

In app Console
Click below for video tutorials on using Hedge Canister...
mLogic Support YouTube Channel
Learn more about the Linear Tape File System (LTFS) 
Backup. Archive. Manage. Works with your favorite software.
The mRack Rack Mountable Thunderbolt LTO-8 Tape Drive is compatible with industry leading LTO archiving and media management software for macOS and Windows including:
Interface:
  2x Thunderbolt 3 ports 
Tape Drive(s):
  Single or Dual IBM LTO-8, LTFS Compatible,
  TAA Compliant
System Requirements:
  Mac or Windows PC with Thunderbolt port
Size:

  19 x 16.5 x 1.75"/ 48.3 x 41.9 x 4.45 cm

Weight:

  mRack LTO - 16 lb / 7.25 kg




  mRack LTO Dual - 19 lb / 8.6 kg

What's in the Box?
  mRack with single or dual LTO-8 drive(s)
  Fujifilm Universal Cleaning cartridge
  1 meter Thunderbolt 3 cable
  Hedge Canister license for macOS
Warranty:
  3-years