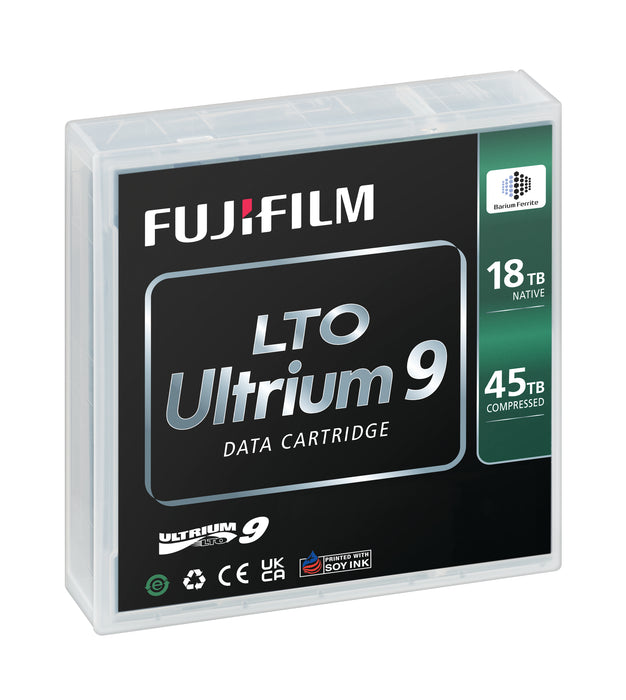 Fujifilm LTO-9 (Multi-Packs)
Save $$ on 5, 10 & 20 packs!
Composed of Barium Ferrite, the LTO Ultrium 9 18TB Data Cartridge Tape from FUJIFILM supports native transfer rates of up to 300 MB/s and compressed transfer rates of up to 700 MB/s for fast efficient data transmission. In addition to enhanced data rates, this LTO Ultrium 9 tape cartridge supports a native capacity of 18TB and compressed capacity of 45TB allowing users to store a large amount of data. 
Barium Ferrite is a type of magnetic particle which can be greatly reduced in size to improve recording density without magnetic signal loss. Barium Ferrite can maintain critical magnetic properties such as coercivity, frequency characteristics and lower noise even with a smaller particle size, resulting in the LTO Ultrium 9 cartridge having dramatically higher capacity compared to past generations of LTO cartridges.
Barium Ferrite is chemically stable (already oxidized) and does not get easily demagnetized by outside energy interference. Therefore, magnetic tape using Barium Ferrite can achieve a long archival life of more than 30 years based upon FUJIFILM's accelerated life tests. With better frequency characteristics than metal particles, Barium Ferrite has a significantly increased margin of recording capability even when the ability of the drive head has diminished after repeated use.