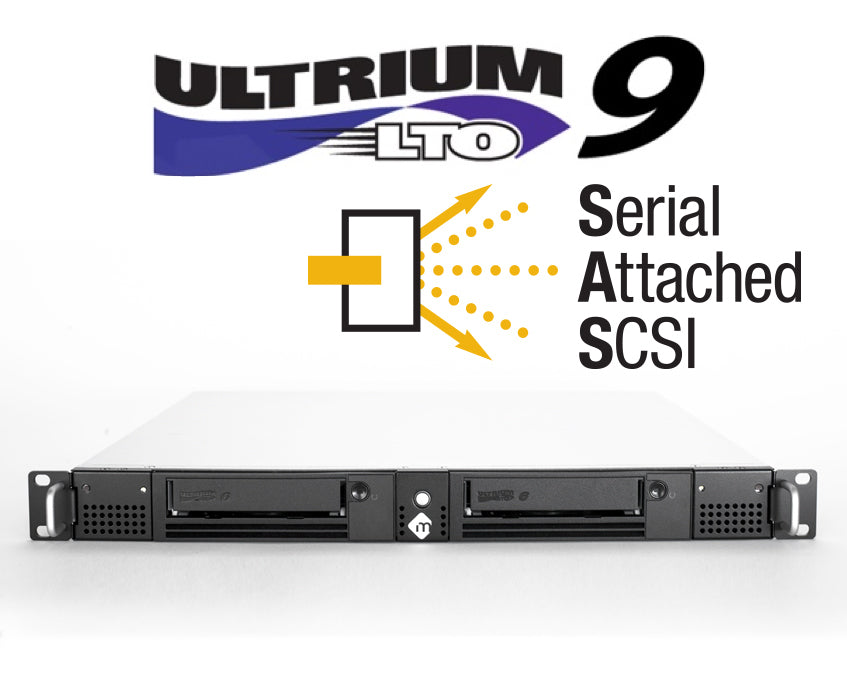 1U Rack-Mountable SAS LTO-9 Solutions
  
1U rack-mountable SAS LTO with single or dual LTO tape drives

Up to 45TB* storage capacity per tape cartridge
Up to 750 MB/second* data transfer rate

Reads and writes to both LTO 8 & 9 tapes

Linear Tape File System (LTFS) compatible

Designed to backup and archive content on Linux and Windows workstations


Also compatible with older "Cheese Grater" Mac Pros with PCIe slots

LTO tape has a 30+ years shelf life - Significantly longer than hard drives

Ships with LTO cleaning tape and SAS cable (SAS HBA optional)


* with 2.5:1 compression 

 

    
1U SAS LTO-8 Backup & Archiving Solutions

mLogic's 1U rack-mounatble SAS LTO's are affordable and easy to deploy backup/archive solutions designed for small to medium sized businesses.  Users can keep their data secure on LTO tape cartridges that can be transported off-site for disaster recovery or long-term archiving.  mLogic 1U rack-mountable SAS LTO solutions are available in single drive and dual drive versions. Single drive units can be easily upgraded in the field to dual drive units.
LTO is unrivaled in terms of cost, reliability, portability and security and plays a critical role in data protection.  Any industry where vast amounts of data are being collected and stored – medical imaging, digital surveillance, oil/gas exploration and video production for example - can benefit from LTO technology. 


Drag and Drop Content with LTFS.
mLogic's SAS LTO solutions are Linear Tape File System (LTFS) compatible. LTFS is an industry standard format that mounts an LTO tape cartridge like a hard drive enabling simple drag and drop functionality for file backup and archiving. This eliminates the need for backup software and allows LTO cartridges to be exchanged easily between users, operating systems, and third-party LTFS software applications.  

More about LTFS software for mLogic SAS LTO solutions here.   
Interface:
  12 Gb/s SAS
Tape Drive(s):
  Single or Dual IBM LTO-9, LTFS Compatible,
  TAA Compliant
Drive Performance
Native / Compressed: 
  300 / 750 MB/s
Cartridge Capacity
Native / Compressed:
  18TB /  Up to 45TB
System Requirements:
  Mac Pro, Windows or Linux PC with SAS HBA
  IBM LTFS or compatible backup/archive software
Size:
  10.2 x 7.8 x 2.32"/ 259 x 198 x 59 mm
Weight:
 

Single

D

rive

 - 16 lb / 7.25 kg




  Dual Drive - 19 lb / 8.6 kg

What's in the Box?
 

1U

enclosure

 

with single or

dual LTO-9 tape drives


  Fujifilm Universal Cleaning cartridge
  2 meter SAS cable(s) 
  Optional SAS HBA
  Power cord
Warranty:
  3-years.