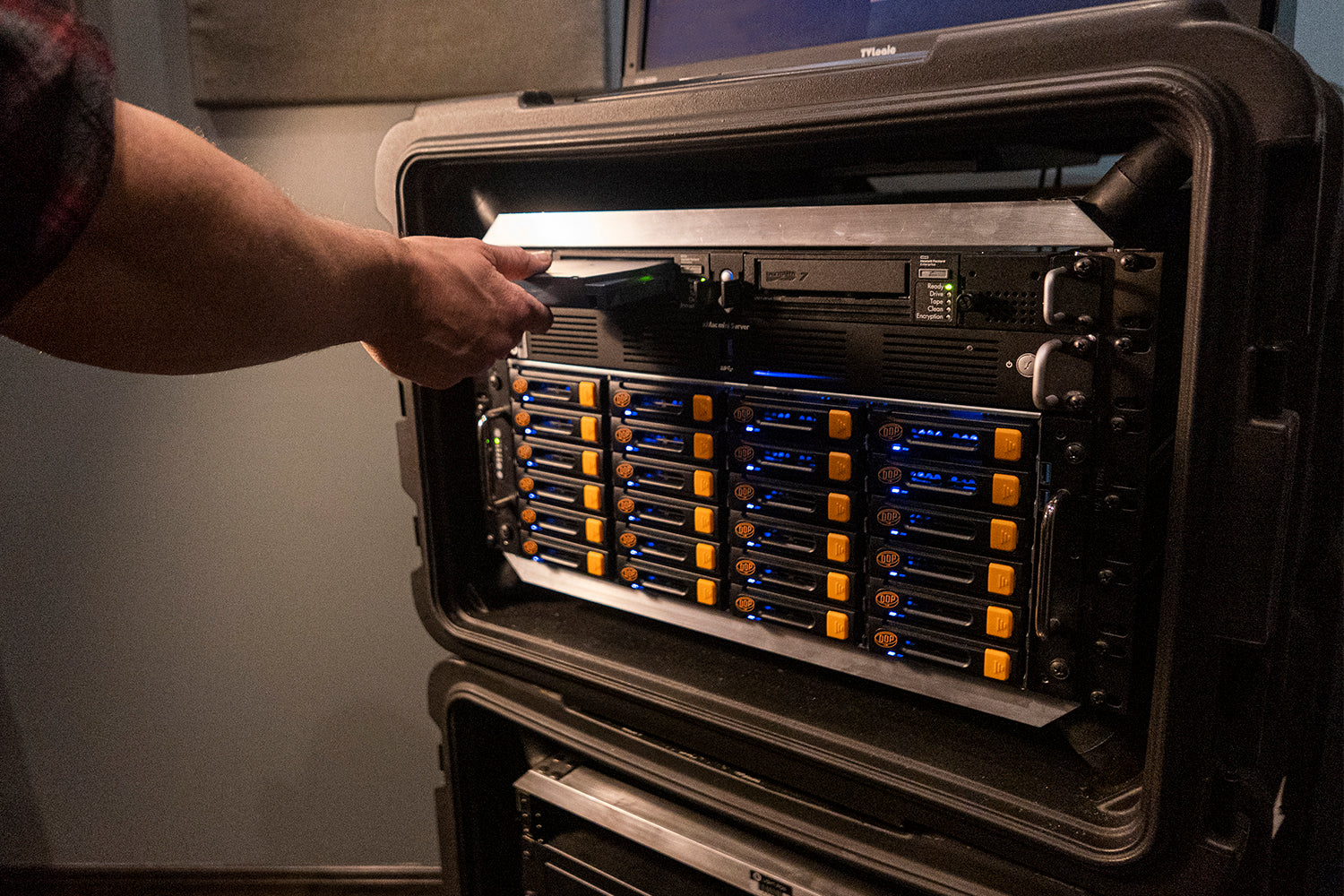 Light Iron Deploys mLogic mRack Thunderbolt LTO solutions in their Outpost Remote Control Systems

New Light Iron Remote Control Systems with mLogic mRack with dual LTO drives
As a pioneer of mobile dailies workflows, Light Iron was uniquely situated to deploy a remote dailies system when the COVID-19 pandemic first shook the motion-picture industry. Outpost Remote Control (RC) is the latest generation of the company's Outpost near-set dailies solution.
The Outpost RC system can be quickly deployed in a production office, data center, or wherever is convenient for the production, providing all the benefits of a real-time near-set solution while allowing the Light Iron dailies colorist to control the system remotely, without having to be physically present with the crew. An on-site dailies PA simply plugs drives into the Outpost RC and slots in LTO tapes, and the remote operator can then process the dailies from anywhere in the world with a solid internet connection.
Since Outpost RC was first deployed, Light Iron has been refining the system, identifying where components can be upgraded to better service clients' needs. The system incorporates a Sonnet xMac mini Server, but the initial Outpost RC kits included full-length rack-mounted LTO autoloaders with an SAS connection, requiring SAS cards in an expansion slot attached to a riser in order to be compatible with the server. For the latest iteration of Outpost RC, Light Iron has replaced the SAS-connected autoloaders with mLogic 1U rack-mountable enclosures featuring dual LTO-7 tape drives and Thunderbolt 3 connectivity. The change has significantly streamlined the kit and the overall dailies workflow.
With the mLogic unit, the Outpost RC no longer requires PCI risers or SAS cards, reducing the footprint as well as the weight on the system's shock racks. On the client side, the dailies PA only has to look for the familiar Thunderbolt 3 port and simply load the LTO tapes, which can now be written twice as fast by the Outpost RC's remote operator. Furthermore, there's no longer any concern about LTO drives being damaged during shipment due to fragile internals or being turned on their side.
Thanks to the benefits Light Iron has seen from upgrading its Outpost RC systems with mLogic units, the company is also incorporating the mLogic Thunderbolt 3 LTO tape drives in its standard Outpost near-set systems, which are operated by an on-site dailies colorist.