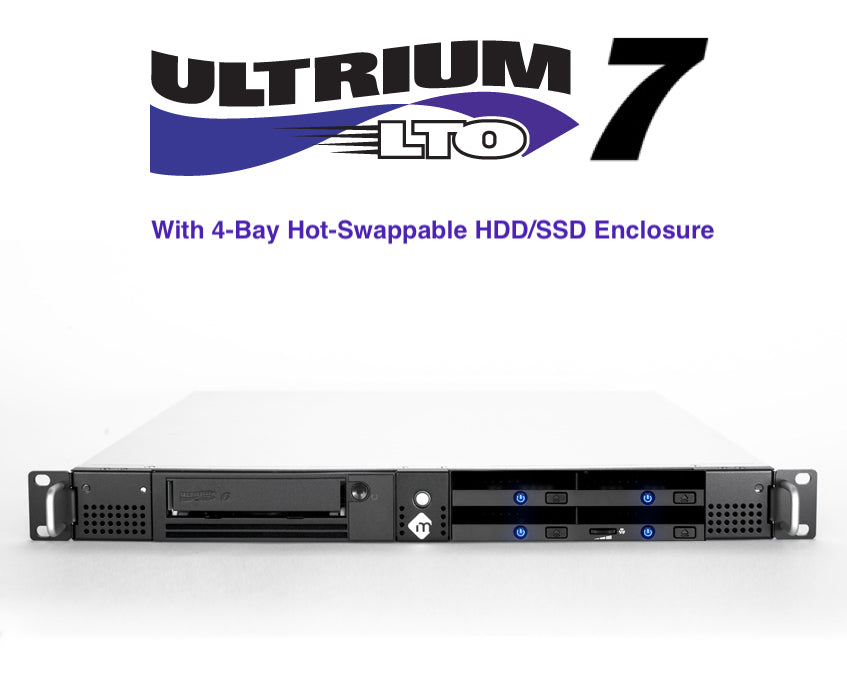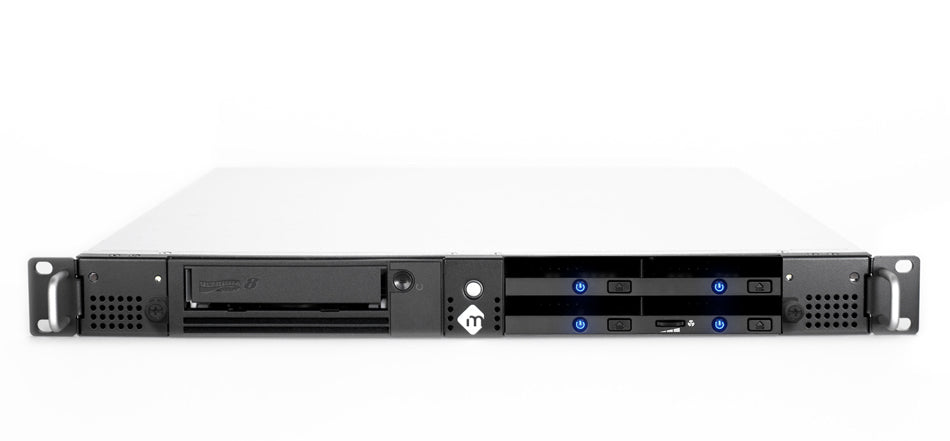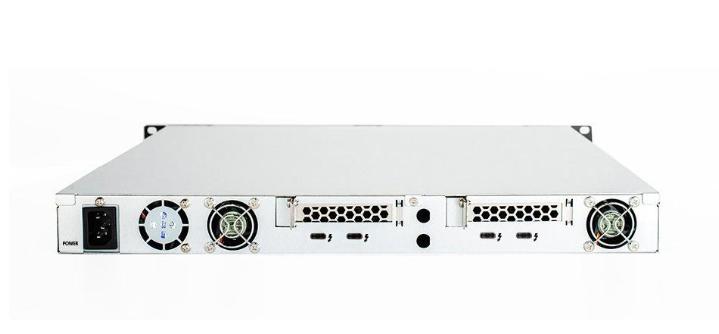 1U Rack Mountable LTO-7 Archiving Solution with 4-Bay Hot-Swap Docking Enclosure 
1U rack mountable storage and archiving solution

Supports up to four removable 2.5" hard drives or SSDs 

(add your own drives)

JBOD or software RAID

operation

Integrated LTO-7

 tape drive - Up to 6

TB

of storage per tape cartridge 

LTO data rate up to 300 MB/second 

Dual 

Thunderbolt 3

 ports 

enable daisy-chaining of Thunderbolt peripherals

Ideal for mounting in standard 19" racks or DIT carts

Includes Hedge Canister LTFS app for macOS -  $299 value!

Ships complete with a Universal Cleaning Cartridge and Thunderbolt 3 cable
Onboard Storage and LTO-7. The Perfect Combo.

mRack DIT LTO-7 is a 1U rack mountable hybrid storage and LTO-7 tape archiving solution designed to support today's digital workflows.  Copy media from camera cards and other sources to the onboard storage for online editing.  Then archive the raw footage and completed projects to LTO-7 tape to safeguard the media for the long term.  LTO has a shelf life of 30+ years and is the most cost-effective storage medium on a cost per TB basis.
Hello LTFS.  Drag. Drop.
mRack ships with Hedge Canister - a $299 value!  Canister is a simple drag & drop Linear Tape File System (LTFS) archiving and retrieve app for macOS.
Canister Features
Makes industry standard LTFS tapes

True drag & drop archiving/retrieve for macOS 

Supports archiving to a single LTO or to two LTOs simultaneously

xxHash64 verification ensures an exact replica of your source is copied to LTO

Catalogs are created for every tape - retrieving files is simple!

Catalogs mount as a network drive and are fully searchable by Finder

Generates Transfer logs, Media Hash List and Manifests

In app Console
4-Bay Hot-Swappable Drive Enclosure for Media Offload and Online Editing. 
Add up to four of your favorite hard drives or SSDs.  mRack DIT supports drives up to 9.5mm in height.  Drives can be easily set up as a JBOD or as a RAID 0 or RAID 1 using the macOS RAID Assistant.
Each drive bay has independent power and enables drives to be quickly swapped out without drive trays/caddies.


Performance of 2x Samsung EVO SSD in RAID 0 Mode
Interface:
  2x Thunderbolt 3 ports
Hardware RAID:
  Supports up to four hot-swappable 2.5" HDD/SSD (up   
  to 9.5 mm height). JBOD or software RAID operation.

Tape Drive:
   LTO-7, LTFS Compatible.  TAA Complaint.
System Requirements:
  Mac with Thunderbolt port
Size:

  19 x 16.5 x 1.75"/ 48.3 x 41.9 x 4.45 cm

Weight:

  16 lb / 7.25 kg

What's in the Box?

  1U rack mountable enclosure with LTO-7 drive and 4-Bay
  hot-swappable HDD/SSD enclosure            
  Fujifilm Universal Cleaning cartridge
  1 meter Thunderbolt 3 cable
  Power cord

Warranty:
  3-years